Fifth International Summer School for Students and Young Scientists — 2018


INTERNATIONAL RESEARCH SUMMER SCHOOL 2018
About School:
 The Fifth International Research-Educational Summer School
"Natural and human environment of Arctic and Alpine areas: relief, soils, permafrost, glaciers, biota and life style of native ethnic groups in a rapidly changing climate"
will start in the cozy city of Tomsk. This famous cultural center has been named "the Siberian Cambridge". There will be 2 days for the field excursion to the High Altai (1200 km South from Tomsk). This will cross different landscapes, such as south taiga, sub-taiga, forest-step, step, mountain taiga, mountain meadow, mountain tundra, glacial and periglacial areas. Participants will observe different geographical provinces, such as West-Siberian Plain, Piedmont Altai, North Altai, High Central Altai and High South-East Altai. All this will provide an opportunity to become acquainted with a great variety of landscapes, different types of reliefs and paleogeographical relics, well-expressed geological structures and evidences of earthquakes, amazing biodiversity in wild ecosystems, unique archaeological objects and the dynamic variety of nomadic populations. The main part of the School will be held at the Aktru Research Station of the National Research Tomsk State University. The Station was founded by M.V. Tronov, the distinguished scientist and Professor of the Tomsk State University, who is a founder of the Siberian Glaciological Scientific School. There will be various field excursions as well as lectures at the Station and in its surroundings. 
The two-day journey back to Tomsk will repeat the trans-zonal excursions. Other interesting places will then be seen and elucidated in the lectures.


LOCATION
The Aktru Research Station is located in the south-eastern part of the Altai Republic close to the borders to Mongolia and China in the center of the Eurasian Continent (50°06'03" N, 87°40'14'' E). With an altitude of 2150 m a.s.l., the station is situated in the high alpine part of the Altai Mountains. The nearest settlement is Kuray village about 30 km southeast of the station. The nearest town is Gorno-Altaisk, about 250 km northwest of the station.
BIODIVERSITY
The Aktru Research Station is surrounded by a wide range of ecosystems changing with altitude: Kuray basin intermountain steppe, steppe belt on the mountain slopes, forest belt, high mountain belt with alpine landscapes and glaciers, high-mountain tundra ("goltsy") as well as cryophyte steppe landscapes. A typical high-mountain vegetation is the "Pseudo-tundra", formed in the periphery of glacial fields under Pleistocene continental climate conditions. Some rare animal species reside in Aktru valley, e.g. snow leopards, wolverines, lynx, musk deer, mountain goats, cranes, and lama ducks.
HISTORY AND FACILITIES
The Aktru Research Station was founded in 1956 by V.M. Tronov and has been in operation until today. From 1975 to 1995, a meteorological station was operated by the State Hydrometeorological Service. Since 2008 new buildings were constructed comprising a staff house, a dining room for 150 persons, a summer cafeteria for 30 persons, a diesel station as well as showers and toilets. The older buildings, recently renovated includes a 'hospital', classrooms, three apartments (housing c. 60 people), a warehouse, a Banya (Russian sauna), and a tent camp for 200 persons.
STGENERAL RESEARCH AND DATABASES
The research at Aktru Research Station focuses on glaciology, hydrology, meteorology, geomorphology, ecology, botany, zoology, and soil science. The main aims are to study climate-driven glaciers dynamics, hydrological regimes, cryogenic processes, landscape patterns, and biota. Different international projects investigate mountain mires in terms of climate-driven changes of landscape patterns, biogeochemistry, and productivity. Kuray Basin, an inter-mountain depression, situated at the foot of the North-Chuya Range (10 km from Aktru Station) is a key site for studying the Altai mega floods. Existing databases contain records on climate, hydrology, and glacier dynamics as well as on plants and vegetation-cover ecology.
Who can participate?
We expect to receive about 30 international students and young scientists (age range: 18‐35 years old)
Registration fee
For individual applicants Summer School 2018 fee is 750 Euro (includes field trip expenses, accommodation, carriage, camping, food and registration fee are included)
Partner organizations should contribute to the Summer School arrangement and thereby cover expenses for their participants
IMPORTANT! Personal outfit  
Taking into account the high‐mountain field conditions for the Summer School, personal sleeping‐bags and tents, as well as proper field clothing and shoes, are desirable. If you have any problem in these respects, please let us know. 
Certificate
School graduates will obtain a Certificate from the National Research State University of Tomsk
Deadline
· 31 May 2018 Last day for submission of applications
· 30 June 2018 the last day for the submission of for oral or poster presentation

Preliminary Program of Summer School 2018 (click here)
Application form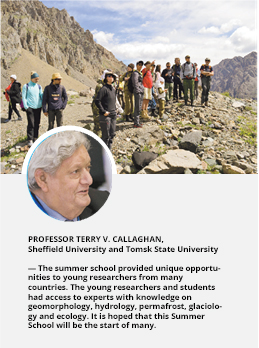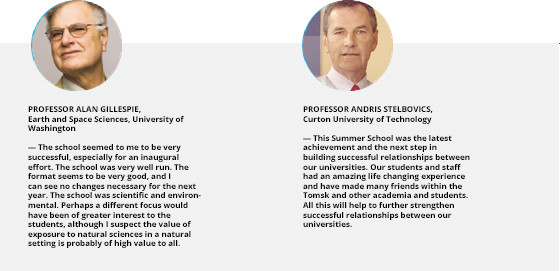 Distinguished Visitor 
Terry V. Callaghan
Royal Swedish Academy of Sciences Distinguished Professor; Professor of Arctic Ecology, University of Sheffield, UK; Honorary Doctor of Tomsk State University, RF, Lund University, SE and Oulu University, FI; Scientific coordinator of the SCANNET/INTERACT Network

· Member, United Nations Environment Programme on Stratospheric Ozone Depletion Effects
· Director, Royal Swedish Academy of Sciences' Abisko Scientific Research Station, Sweden
· Co-ordinator SCANNET (Scandinavian - North European network of terrestrial field bases)
· Co-chair of CEON – a US initiative 'Circumarctic environmental observatories network'
· Member of the Integration Team, Steering Committee and lead author of the Arctic Climate
Impacts Assessment: an ACIA representative at meetings of the Senior Arctic Officials
· Lead author of the Millennium Assessment of polar ecosystems
· Lead author of the IPCC assessment of polar regions
· Leader of several international Arctic research strategy initiatives
· Member of the US National Academy of Sciences committee on designing a circumarctic observatories network
· Leader of the Arctic Council of Ministers' initiative on coordination of observation and monitoring in the Arctic
Contacts: